At the Out set, Phoenix Rubber Works was originally a Czechoslovakian firm - mainly engaged in the manufacture and supply of Shoe Micro-Sheet with brand name " Champion" and Dock Fenders. By a decision to wind up their business, the erstwhile Czeck management wanted to sell out their plant and its machineries and finally leave India.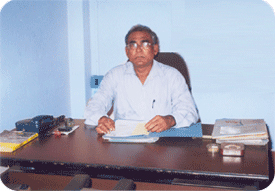 Mr. Girish Chandra Saha, who is the main architect of M/S. Swan Rubber Industries functioning as a manufacturer and supplier of rubber items to Automobiles, Shipping and Specially Railways was intensely looking for ways for an avenue to supply critical items to Railways and thus the Czech Plant was found to be suitable to meet his requirement and finally siezed the offer and purchased the Czech plant with its valuable machineries and goodwill as well in the year 1988.
With the idea of converting Phoenix Rubber Works into an international standard plant, for vibration-control and noise isolation solutions; these are engineered using only vulcanized rubber-metal technology, Mr. Saha started to equip the plant with various latest machineries and testing facilities. The plant is now run by a team of qualified technologists for manufacturing and supplying various critical rubber moulded parts, metal to rubber bonded materials (Ant vibration items and shock absorber), Synthetic and Natural Rubber Sheeting, Dock Fenders and various other Extruded Profiles to the Railways, Docks, Defence, Automobiles, shipping etc.
Development and R & D activities are in full swing for various other items of imported nature.
Phoenix Rubber Works is planning to enter into export market and technological collaboration with a reputed industry (rubber) abroad is under active consideration with the sole objective of off-taking the products by the collaborators as much as possible.
Plants :
Land Area - 2250 Sq. Mtr.
Covered Area - 1800 Sq. Mtr.
Total Workforce - 20
Address - P-83-1 Benaras Road, Pin - 711108

Approvals :
PHOENIX RUBBER WORKS IS
An ISO 9001 - 2008 company Accredited by KVQA CERTIFICATION SERVICES PVT. LTD. (KVQA)
SSI & NSIC registered Organisation
Approved by RDSO ( Research Designs and Standards Organisation, Ministry of Railways), Lucknow
Registered with all Zonal Railways including Chittaranjan Locomotive, Diesel Locomotives, Integral Coach factory and Railway Coach factory
Registered with Calcutta Port Trust & Coal India Ltd.